I've been using the Sound Devices MixPre-D for about a year now. I'm extremely impressed with the functionality, sound quality and the size/weight. As a working photojournalist and videographer for Newsday, I need a piece of gear that I can carry easily along with my lenses, tripod and camera. The mixer allows me to work alone in fast paced conditions while delivering a quality product.
In the field:
The MixPre-D used with a Porta Brace bag allows me to easily monitor and adjust my audio levels, listen to a live signal, send the signal to my camera and/or a recorder and carry a set of Sennheiser Wireless microphones. You can also stow a Frezzi brick battery to power the mixer and 48v Phantom microphones.
The mixer is light, rugged and feels like a work horse. The knobs and switches are robust and stand up to daily field abuse.
It's also very easy to see your levels in bright sun. Other features that help one capture great sound are peaking controls, M/S stereo and stereo, crossovers for wind noise, selectable channels and a switch for mic/line/48v incoming signals.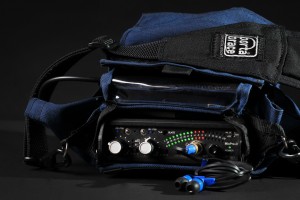 Capturing Sound:
Having the ability to monitor and mix line, mic or 48v level signals allows you to work in any environment. Having two dedicated channels is a major advantage, allowing you to dedicate one for a wireless receiver and having the second open for a boom microphone, mott box, or second wireless microphone.

Recording Sound:
The beauty of this piece of gear is its built in ability to work with a DSLR. Paired with a Canon 5dMKii set at manual levels, one can send a quality signal to the camera while shooting an interview or natural sound during b-roll.
The mixer also has XLR and USB outputs that you can send to an external recorder or computer. During sit down interviews, I power my Sennheiser MKH 416 with the mixer and send the signal to both my camera and a computer. Using the mixer in conjunction with Audacity allows for superior quality sound with no analog to digital conversion. Nothing but bits and bites!
Post production:
For a two camera shoot, Camera A is recording a great quality signal from the mixer. Camera B is the onboard condenser and finally the primary audio is recorded with Audacity running on my MacBook Pro. In Final Cut Pro, I put clips from both cameras and the .wav file on the timeline. Then using Singular Software's PluralEyes, I sync all three audio sources. Having three sources of audio, two being of professional quality, allows for redundancy. Unless there's a problem with my computer, I always choose the .wav file during the edit.
Conclusion:
Overall an amazing little mixer. I'm really impressed with all aspects of the Sound Devices MixPre-D. If you are working alone, or with a team, and you need a small lightweight mixer, this is the unit I would recommend. I have tried several other small handheld recorders and one mixer, none of which compare with this device.